Water Reclamation Engineering Laboratory
About the laboratory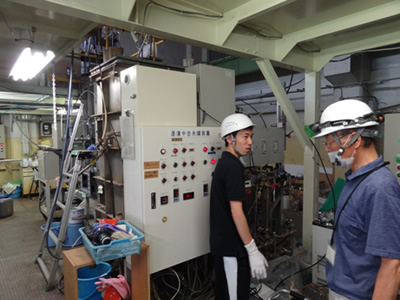 The Water Reclamation Engineering Laboratory (WREL) focuses on membrane technology for water/wastewater treatment. Membrane technology has various advantages over conventional treatment methods. However, due to several disadvantages such as high energy consumption, it has not become the mainstream technology in the field of water and wastewater treatment yet. Our mission is to remove such obstacles for widespread use of membrane technology. Membrane technology has huge potential to enhance sustainability in cities. Current research topics include the (1) identification of agents causing membrane fouling; (2) development of efficient membrane cleaning method; (3) development of energy saving membrane bioreactor (MBR) process; (4) recovery of resources from municipal wastewater by using membranes; and (5) application of forward osmosis (FO) to recover nutrients from dairy waste.
Staffs
Professor
Katsuki Kimura(CV is available here)
Assistant Professor
Ryusei Ito
Guizani Mokhtar
Joining the lab
The lab is accepting foreign students (master/doctor). Students should have background in environmental engineering and water chemistry. Hokkaido University offers English-based education program (see the link). Although not necessary for acceptance, we strongly encourage application for externally funded fellowship through MEXT (see the link). Please contact Professor Kimura via email.