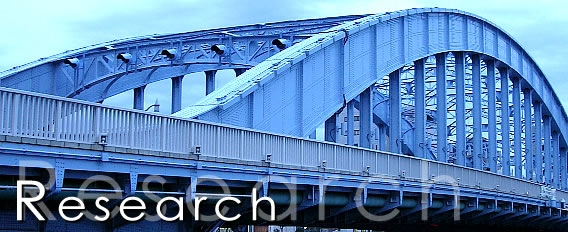 Home > Research
Abstract of Our Research
Infrastructures such as bridges are indispensable to the contemporary society. And it is extremely important in the achievement of sustainable development of the society to plan, to design, to construct these structures. Additionally, maintaining and managing these structures appropriately is important too. According to the diversification, complication, and the upgrade of the society in recent years, the performance demanded from bridge structures is extremely advanced.
Then, our laboratory researches application of new materials to the bridge structure, analytical method, design method, production method, and the technology for management and maintenance. Please check following items about details.
Natural Vibration Analysis

To clarify vibration mode of structures by using natural vibration analysis is effective to know the characteristic of structure shows complex behavior, like suspension bridge and cable-stayed bridge. The natural vibration analysis is important for knowing the characteristic of the structure's dynamic response, and the design that defends the structure from an earthquake, a wind loading, and a traffic load, etc. is enabled by knowing the vibration characteristic of the structure.
Dynamic Analysis

In the Hyogoken-nanbu earthquake that had occurred in January, 1995, quite a lot of damage was caused in the expressway, subway, Shinkansen, and the social infrastructure facilities of the harbor equipment etc. In 1996 and 2002, Road bridge regulation was revised considering the damage situation of this earthquake. After this, the number of cases where a dynamic analysis is used to check an earthquake-proof performance of the bridge structure designed by Seismic coefficient method or Ductility design method have increased up to now.
Seismic Design

There is a limit in the design that resists the seismic forces only by improving the stiffness of the structure when large-scale seismic forces act. From this reason, it is thought that the design that the earthquake energy is concentrated on a specific part by taking the material with the energy absorption performance is effective to maintain the infrastructure's soundness.
BMS(Bridge Management System)

In Japan, the importance of the maintenance of the bridge is predicted to be going to increase because a large number of bridge structures have constructed at the high economic growth period(1960s) will reach the its life rapidly in tens of years in the future. Then, it is thought that BMS(Bridge Management System) considers the cost of the life cycle of the bridge will be more important because it achieves efficient management of the bridge structures.
Health Monitoring

In Japan that will rapidly increase the bridge structure that becomes superannuated in the future, the control of maintenance of the bridge structure or making to long life by the repair and reinforcement becomes a big problem. At the same time, it is thought that it is important to make the monitor technique of the bridge established from the hope for the system that can accurately diagnose the damage level and the soundness of the bridge along with it.
Home > Research